---
SKALICA 2020
---
SAVE THE DATES FOR
If you have any questions, please don´t hesitate to contact us via e-mail: samojedks@gmail.com
---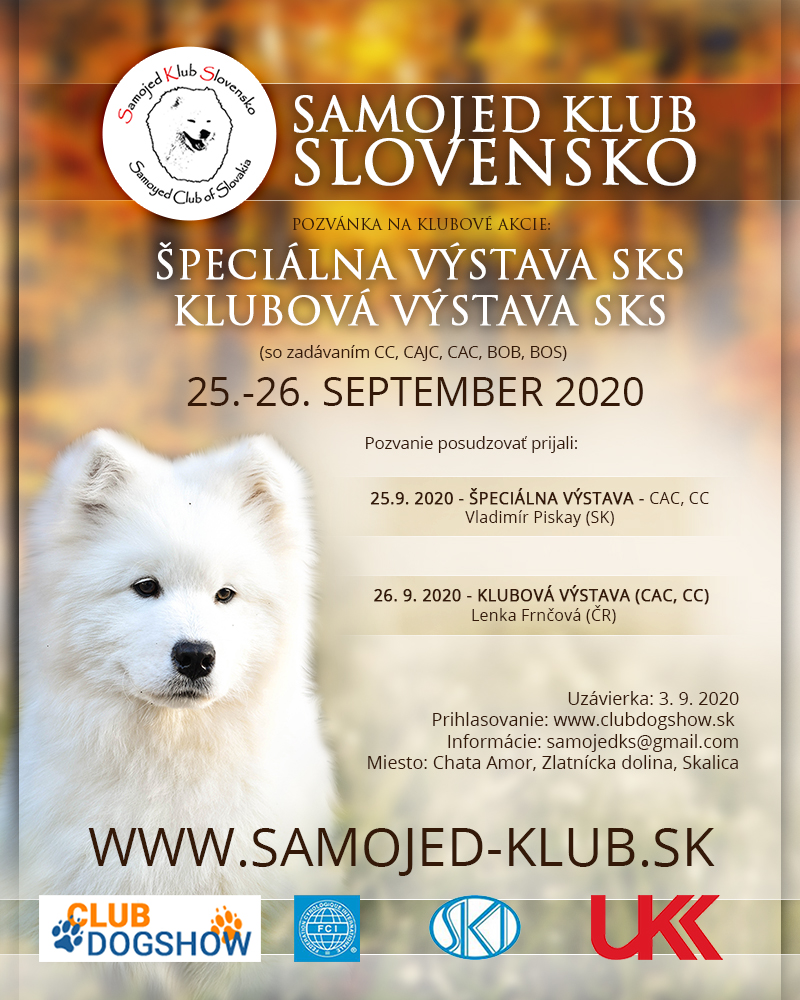 ---
---
ENTRIES VIA ONLINE SYSTEM
DEADLINE 3rd September 2020
---
| | | | | |
| --- | --- | --- | --- | --- |
| | member of SKS | member of SKS | non member of SKS | non member of SKS |
| | 1 show | both shows | 1 show | both shows |
| 1st dog | 25 € | 45 € | 30 € | 55 € |
| each additional dog | 20 € | 35 € | 25 € | 45 € |
| baby, puppy, honour, veteran | 10 € | 15 € | 15 € | 25 € |
| competitions | 10 € | 15 € | 15 € | 25 € |
---
---
Payments to club bank account:
Samojed Klub Slovensko
Československá Obchodná Banka a.s., SNP 9, Hlohovec
SWIFT kód: CEKOSKBX
IBAN: SK77 7500 0000 0040 0711 5511
Use the symbol from entry, or write name of the exhibitor
---
---
Club shows follow the rules of SKS, SKJ, FCI – online registration onlyPayment at the show is possible +5,-€ per exhibitor.
It is not possible enter dogs on the day of the shows – only for final competitions!!!
If you enter 3 or more dogs for both shows you´ll get 10% off the fees !!!
---
PROGRAMME

Friday 25.9.2020
10.00-16.00 Specialty club show SKS (CAJC, CAC, CC, BOB, BOS)
18.00 Annual member meeting
19.00 Meet and greet party
Saturday 26.9.2020
10.00-16.00 Club show SKS (CAJC, CAC, CC, BOB, BOS)
13.00 – Cooking competition
20.00 – Samoyed of the year 2018 & Raffle
Sunday 27.9.2020
10.00 – competitions with our Sammies
During the shows:
Sammy club show with souvenirs
XL-PRA GEN testing
Eye testing (MVDr. Miro Faga)
Food and drink free for attendes
Programme can be slightly changed
We are looking forward to meeting you all there
---
By entering to this Show you agree on processing your personal information as name, surname, address and contact – for internal uses of SKS, administration of the Club and its roof organizations. You agree on publishing them in the Catalogue, on Club website and Club Magazine in above mentioned content.